Belated Mother's Day wishes to all the mums. I hope you enjoyed your special day. And big hugs to those who find the day difficult. I see you too.
A few weeks ago, I explored more of Perth as I found my way north to meet author, P. L. Harris and celebrate the launch of her new book, 'In His Protection.' One book wasn't enough for me though. I also bought some of her cozy mysteries series as you'll learn about below. I love book launches. Filled with excited vibes and huge smiles, it's wonderful to see someone achieve their dreams and to share in their joy.
J
I also attended an editing workshop hosted by Teena Raffa-Mulligan who is an established author and former journalist. She shared tips for polishing our manuscripts, what common editing mistakes to look for, and advice on editing our own work. I could listen to this wonderful lady talk for hours. Her workshops are always fascinating.
The blog title should make sense now. ;)
In His Protection (Burrum Ridge Series Book 1) by P.L. Harris.
Every picture tells a story, but this family secret could be deadly.
For Melody Maddison, life hasn't been the same since her mother's passing. When she discovers a photo of her mother and a mysterious child, she'll stop at nothing to find the truth, even if the search makes her question everything she's ever known about the beloved woman.
Noah St. Reeve has a soft spot for women in trouble. When he rescues Melody from an attempt on her life, he can't turn his back on the fierce and beautiful woman in front of him. Torn between duty and passion, it will be up to Noah to keep his charge safe from harm, no matter the cost.
Melody's quest for answers leads her from one dangerous path to the next. When the first shot is fired, the handsome and steady Noah is there to keep her safe. She knows she should back down, but Melody owes it to her mother to get to the bottom of a history that will rock her family forever. Except, the photo isn't only a link to her mother's past. It's proof of a dangerous secret—a secret that someone is willing to kill to keep.
Melody Maddison thinks the creepy phone calls and threatening notes are someone's idea of a sick prank. What does it matter to anyone else if she's looking for answers to a photo that belies everything she knew about her mother? When a car tries to run her down, it shatters her complacency. And they'd have succeeded in hurting her, or worse, if it wasn't for the handsomest man she'd ever seen rushing to her rescue. Not that she has time to thank him properly for Melody is on a mission and she won't stop for anyone or anything until she knows the truth.
Noah St. Reeve, a personal protection agent, wouldn't say he had a hero complex but saving a beautiful woman from becoming a hit-and-run victim is an easy to thing to do. Especially when said woman sets his blood on fire and quells his drifter urges. She makes him feel wanted, like he belongs. When he offers his protective services, it's more than wanting to keep her safe. In Melody he sees a chance to redeem himself and right past wrongs.
Determined to find the truth, Melody and Noah risk more than their lives in her quest to learn of her mother's past. They're risking a future of love and happiness too. Because as much as Melody wants the truth, there are those desperate to stop her, and they're not afraid to kill to keep the truth buried.
This wonderful story had brilliant action scenes, intense, incredible tension, believable characters and a sensual scene that scorched the pages. I especially loved the way the author handled the physical side of Melody and Noah's romance and I was on the edge of my seat during some of the final action scenes. I can't wait to read the next book in the series.
Cupcakes and Cyanide (The Cupcake Capers Book 1) by P.L. Harris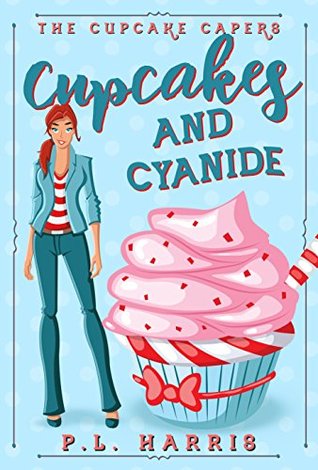 Welcome to Ashton Point. One sweet taste could be her last.
Charlotte McCorrson has spent her entire life building her business, CC's Simply Cupcakes. The town of Ashton Point is her home and she's garnered a reputation of stellar service and delightful pastries, one nibble at a time. But everything isn't as sweet in the sleepy, coastal town as Charlotte would like to think. She is in for a rude awakening and no amount of sugar will make this medicine go down any smoother.
After catering a large town-wide event, Ashton Point's morning newspaper fills Charlotte McCorrson with an icy sense of dread. The headlines scream

Cupcake Killer!

And put the blame squarely on CC's Simply Cupcakes. When bodies begin to pile up behind her confectionary goodies, Charlotte must prove that while her cupcakes are delicious, they aren't literally to die for--before she ends up in jail for a crime she didn't commit.
This is Book 1 in The Cupcake Capers Series and may contain elements of humour, drama and danger. However, it will definitely not contain any of the following potentially lethal substances:
Cliff-hangers or unsolved endings.
When Charlotte McCorrson spies the handsome best man at a friend's wedding, the last thing she wants is to catch the bridal bouquet and let him know she's single, right? Besides, she's there as a representative of CC's Simply Cupcakes, not just as a guest, and it's wonderful to hear compliments on her baking. But the next morning she's devastated to see the newspaper headline. No way she or her cupcakes are involved in a cyanide poisoning scandal and definitely not murder. A pity the local police don't seem to agree.
A determined Charlotte takes on the town of Ashton Point with one thought in mind—to prove her innocence. Although whether Liam, who claims he wants to help her, turns out to be more of a distraction remains to be seen.
I hadn't read a cozy mystery before. A
lso referred to as "cozies", they are a subgenre of crime fiction which downplays sex and violence, is treated in a humorous manner, or happen 'offscreen.' They often take place in a small, socially intimate community. An excellent example is the TV show, Murder, She Wrote.
This sweet story (all puns aside) was a lovely change of pace. I loved Charlotte's self-righteous indignation, and her determination to prove the law enforcement and the small-town gossips wrong. The growing romance between her and Liam was lovely and there was certainly some sizzle in their kiss. An entertaining read.
J
Cupcakes and Curses (The Cupcake Capers Book 2) by P.L. Harris
Murder and cupcakes, a deadly mix.
Clair McCorrson has spent the last three years building her business. CC's Simply Cupcakes with her sister gaining a reputation for mouth-watering excellence in their seaside town of Ashton Point. While Charlotte is the master baker, Clair keeps the business side looking sweet and if everything goes as planned, she'll be more than the girl behind the scenes.
Expanding their business to the nearby town of Watson's Creek is Clair's idea, and acquiring the Sweets Mansion is her dream come true, her chance to step out from her sister's shadow and make it on her own. Clair's excitement quickly turns sour when she stumbles across the murdered body of local settlement agent.
Newspaper headlines screaming C

upcake Killer Strikes Again!

Clair's life seems to be going from bad to worse when rumours of the cursed Mansion begin to surface igniting chaos among the locals. Bodies literally begin to mount up around CC's Simply Cupcakes and all the evidence points to Clair. Wrongly accused of murder, it's a race against time to find the real culprit before she's spends the rest of her life behind bars.
This is Book 2 in The Cupcake Capers Series and may contain elements of humour, drama and danger. However, it will definitely not contain any of the following potentially lethal substances:
Cliff-hangers or unsolved endings.
When Clair McCorrson discovers the body of the settlement estate agent she'd arranged to meet inside the house she's buying, her sweet deal becomes increasingly bitter. Surely, the police know it's a case of wrong place, wrong time? Once again, the newspaper is printing lies about her family, and implicating her as the murderer, just like they did with her sister. Worse, the agent's estranged, not to mention handsome, son has just arrived on her doorstep demanding to know what happened.
Then another body is found behind the cupcake store with similar injuries as the first victim. Clair knows she's on borrowed time. If the police and the town won't believe her innocence, she'll solve this case herself. And if Mason wants to help her find the truth about his father, well, she'll deal with that rather charming distraction too.
Deceit and deception stick to the McCorrson sisters like icing sticks to their cakes. This time older sister, Clair meets her date with injustice. I like the clever twist and the 'red herring' that was thrown in here, and fiery Clair's chemistry with computer geek, Mason. Another great read.
J
Everything Publishing–The Ultimate Publishing Guide / How I built a Publishing Empire I just Five Years by Karen Mc Dermott.
Are you ready to move to the next level in your authorship? Are you ready to do more than publish a book? Or, maybe you are ready to take control and learn how to publish for yourself.
In Everything Publishing Karen introduces author/publishers to many of the aspects of publishing by sharing her insider knowledge and secrets to success.
This is not an average publishing guide, Karen has also generously shared her journey into publishing to demonstrate that no matter where you start off you can build something magnificent because

where there is a will, there is always a way!
This book is an author/publisher's 'must have' to success. Ms Mc Dermott shares practical advice and inspiration which isn't some throwaway spiel, but an informative guide the author/publisher learned through her own trial and error.
Broken into two parts, Ms Mc Dermott first shares inside tips and advice on how to publish your book and, if you wish, how to build your own publishing empire. This easy-to-follow and referable guide helps make the prospect of seeing your book on shelves / online not only attainable, but possible. There are no shortcuts to publishing the best version of your book as Ms Mc Dermott is quick to state, but by doing the work and researching your options, the path to publication is smoother.
The second part is Ms Mc Dermott's story of how she backed herself and followed her heart into the publishing world and made it her own. She also shares an insight into her life, the girl she was and the woman she's become. This shows why she believes so deeply in herself and those who she encourages to achieve their own successes.
Essentially, not only is this book a valuable guide, it's also about paying things forward and encouraging others to follow their publishing dreams.
Effective Teaching Habits: Practical Strategies to make teaching easier by Brian Rowe
The purpose of Effective Teaching Habits is to help you reduce discipline problems by accelerating your professional learning. Within these pages you will find strategies, techniques, and time-saving tips to help rapidly improve your teaching practice resulting in less behavioural issues and an increase in overall job satisfaction. Effective Teaching Habits is written in such a way that you should feel like you have your very own mentor guiding you, sharing knowledge with the aim to help you grow as an educator, and feel more confident when tackling problems that arise in the classroom. Rather than react to behavioural problems, you will instead structure and run your lessons in such a way that you can minimise or eliminate any issues before they occur.
Written by an experienced teacher and mentor, this book is an excellent guide for beginner teachers to help them plan, strategize, and gain the best teaching experience early in their careers. With this in mind, the beginner teacher will learn how to diffuse difficult situations in the classroom and get the best out of their students. This makes education not only a priority but also an enjoyable experience.
This informative guide uses scenarios and practical suggestions to deal with situations in both primary and secondary schooling levels. These examples alternate between serious and humorous moments as a way of connecting with the students to engage a positive outcome. This then helps relieve the internal pressure beginner teachers place on themselves and gives them confidence in themselves and any classroom situation.
Establishing a rapport with students and engaging calm in the classroom is of mutual benefit to both teacher and student. Written in a clear and practical manner, beginner teachers will benefit greatly from reading this book and referencing it as needed.
*I'm often asked if I'm a teacher. Apparently, I have 'the look,' whatever that is. I assure them teaching is way out of my league, but my daughter wants to be a music teacher. Fancy that.
J
Thirteen and Underwater by Michelle Weitering
Thirteen and Underwater
is an emotionally-charged true story, based on a young man's dark journey of anxiety.
Told with a mother's insight, Thirteen and Underwater divulges a life full of love and laughter and reveals the tiny claws of anguish that turn into sharp talons of despair, as her beloved son grows from childhood, into a defeated teenager, grasping at the reins of uncontrollable anger and isolation. As his mother, fighting to do what society expects of her while facing the incalculable loss of her son's sense of self, the writer questions herself constantly, with the emotionally draining barrage of, 'What am I doing wrong?' Yet she tells their story with characteristic candour and humour.
This is the story of one family's survival, reflecting billions in a worldwide epidemic. It explores how anxiety can severely affect not just a little boy trying to fight the unseen predator that is mental illness, but the entire family. Their journey together shows them from their happiest times, to their very bleakest. It is an inspirational story of one family's refusal to give in to the nightmare caused by anxiety.
Brave and intensely emotional, this is the true story of a mother's experience as she navigates her son's world of anxiety and depression. Ms Weitering takes the reader through his childhood and shares deeply personal increments of their life together. Told with blunt honesty and a touch of humour, readers will find themselves moved by details stemming from childhood bullying by children to adults outside the immediate family group. Not only should they have known better, they were the ones she thought would offer support. The plight of a mother desperate to help her son and their family understand a situation in which they were figuratively drowning will even draw those who haven't experienced these issues.
For those whose reality is anxiety and depression or live with someone they love who fights an internal battle every day, reading of another person's experiences could make a huge difference. Imagine feeling less alone because you've connected with something you've read? Or because you've been in the same situation and understood exactly where the author was coming from and recognising the events in your own circumstances.
Ms Weitering's openness and candour invites the reader into her world, draws you down into the heartache of not only herself but also her son's. Her story leaves you with if not a deeper understanding, then certainly a more compassionate one. The author hopes that by sharing her story there might be one family who acts a little kinder to itself and finds the courage to seek help. I'm of the opinion this story will reach so many more.
The Chocolate Affair by Imogene Nix
Secrets, hidden truths and demons will find their way… Especially when chocolate is involved.
When Scheherazade Chocolates is bought out by an off-world consortium, Deanna's livelihood and that of her employees are jeopardized.
When that same consortium sends JD Ruan to assess the situation, Deanna is sure things can't get any worse...until they do.
What no one knows is JD's secret. He's a demon and not just any kind of demon. He's a pleasure demon.
Deanna has to come to terms with loss, second chances and pleasure demons before she can release herself to a future filled with so much more than she could ever imagine.
Scheherazade Chocolates is Deanna's heart and soul. Not only does she love seeing her customers' faces when they bite into one of their confections, it's the place she feels safe. And being safe means working all hours to dampen the grief of losing her husband and child in a terrible car accident some years before. When the company owners change hands, she faces the loss of that sanctuary and fears for her fellow employees. The new owners send in an assessor to decide the company's future. One look at him and every intelligent defence and strategy she'd envisioned, disappears under a wave of desire.
JD Ruan knows Scheherazade Chocolates is an asset to his company, and he has no qualms going undercover to assure it stays that way. What he didn't expect was an overwhelming desire to take the strait-laced manager into his arms and into his bed. He's no stranger to pleasure, inspiring lust wherever he goes, but never has he wanted anyone as much as he wants Deanna. And if he tells her the truth about his less than human nature, will she believe what he feels for her is real?
Their mutual seduction is inevitable, but afterwards Deanna's confused. And when she discovers JD is the new owner of her company, she feels betrayed by his deceit. Something has changed between them, something inexplicable amid their lovemaking. He can't get her out of his mind, and Deanna discovers a secret from her past that unlocks a life changing moment neither she nor JD expected.
Ms Nix knows how to bring the 'sauce,' and I'm not talking about chocolate here. This story is a decadent, sensual feast, but it's also a beautiful tale about being true to oneself, taking a leap of faith, and accepting the past to build on one's future. It may also make you want to eat chocolate. lol
Team Player by Cate Ellink
She's never been shy about what she wants – and now she wants them both...
Hannah Maynard, sports reporter, is sure it's only her lust–filled fantasies linking Australian rugby league captain, Charlie Maxxin, with relative newcomer, Lyle Smythe–Jones. She and Charlie have shared quite a few steamy sessions over the years, so surely, he's not in a relationship with the young, unflappable player she's dubbed Marble Boy?
Hannah lures Charlie to dinner and his reaction is all the answer she needs. But she doesn't want to report on the biggest secret in Australian sport – she wants to take part. However, it's not just Charlie's decision and it can't be just casual. If Hannah wants in, she has to be all in, with Lyle, with Charlie, and with the hottest action any of them have ever experienced.
Hannah Maynard doesn't do relationships. Or get attached. She loves her hard-won career as a sports reporter, football, and her freedom to indulge with whoever, whenever she wishes. In her job, she's not lacking for attention, or attractive lovers. That reporter's instinct insists there's more than mateship going on between one of her lovers and the player who's on everybody's watch list every second he's on the field. To expose them would be a reporter's dream story and a career breaking move for the men concerned.
When Hannah receives confirmation on those instincts, the last thing she wants to do is share the truth. But to get what she desires; Hannah must be prepared to give up her previous lifestyle and care about more than just herself. Because for the first time it's not only her heart on the line, it's Charlie's and Lyle's too.
Holy hotness, dear readers. I may take up smoking, or at least invest in a better air conditioner. Lol This was one hell of a steamy read. This story's characters evolved over the course of the book. The story had meaning, and the author showed how the characters' feelings as the relationship changed mattered. It wasn't just about sex. Each character had to adjust and sacrifice for the sake of all three people in the relationship. It also doesn't hurt that I enjoy watching the footy either. And I loved 'seeing' the game through the eyes of someone emotionally invested in the players. If you like well written, sexy reads with emotional impact, this one's for you. I will read more from this author too.
As you can see, most of my time this month has been spent reading. For the next few weeks I have copyediting work, which is exciting. One is the start of a new werewolf series. Otherwise I'm rewriting and learning about pacing. Mine needs a lot of work. Oh, and I may have bought a few more books...
Until next time, may beautiful words sing to your soul.
J